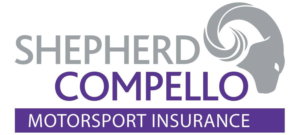 London-based Lloyd's Insurance Broker and Coverholder Shepherd Compello is pleased to announce the launch of a brand-new division that will focus on the delivery of products for motorsport competitors, associated businesses and organisations: Shepherd Compello Motorsport Insurance.
Headed-up by experienced motorsport insurance professional, former competitor and championship promotor, Mark Taylor brings with him a wealth of knowledge from both sides of business. Consequently, the company is uniquely placed to understand customer requirements coupled with the insurance product marketplace.
"Knowing first-hand what our customers need and being aware of the insurance products that are available, enables us to offer policies that are fit-for-purpose, so competitors can take part in events with peace-of-mind. This means when the action starts, they can focus on the result and not the consequences", explains Mark.
"Our mission is to provide customers with clear and concise information that makes it easy to understand what's covered and what's not. As we specialise in motorsport and the activities and business that surrounds it, our focus is to provide cover that's relevant and fit-for-purpose, with a range of options and a transparent pricing policy."
Initially, the company will offer a series of products for competitors, teams, businesses, event organisers and track day drivers. These include, but are not limited to:
On-track accident damage
Motor sport trader policies
Public and employer liability
Personal accident and medical repatriation
Storage, marine and transit cover
Event cancellation
High risk travel insurance
Cyber risk cover
To find out find out, please visit www.shepherdcompellomotorsport.com
Related posts
7th July 2021
Congratulations to our Broker Ashley Mills for being named one of Insurance Business UK's 2021 Rising Stars. To find out more and see…
6th May 2021
Shepherd Compello is honoured and thrilled to have been named as the Best Independent Insurance Broker in Western Europe by…
26th April 2021
Shepherd Compello is delighted to announce the appointment of Steve Hart to the position of Chief Broking Officer. In his…
Join our mailing list!
Keep up to date with all the latest Shepeherd Compello news, blog posts and updates about our products & services – subscribe to our Newsletter.