At Shepherd Compello, we pride ourselves on our diverse workplace, having had a very strong female-lead workforce for quite some time. Holly, our Managing Director, is a force in herself, and a huge advocate for women's equality in the market. However, this is something that comes naturally to everyone at Shepherd Compello, and we believe we wouldn't be where we are today without our strong female leaders. Following on from the Lloyd's article 'Leading firms for women in leadership in the Lloyd's market' got us thinking… are we ahead of the curve, or are others falling behind and not doing enough to promote women in the workplace? Whichever way you look at it, there are plenty of reasons to give women more opportunities to take up leadership positions in the industry.
Whilst we know from just looking around, that we have a substantial number of women in our organisation, especially in leadership positions, we tasked ourselves with finding out the true percentage of women on our leadership team and this worked out to be 54%, with 5 men and 6 women.
In comparison to the large insurance companies and brokerages listed in the Lloyd's article, one change in our leadership team could tip the scales and could change the whole picture, however our values and vision on the matter remain clear. Women in leadership positions enforce positive change and innovation, not just in our business, but in the industry, especially when it comes to acting as a mentor to the younger generation starting out in their career. We believe having more women in leadership positions will bridge the gap in organisations, offering different perspectives and more opportunities.
Allyship is extremely important in paving the way for more women to reach leadership positions, and something we feel we do so well at Shepherd Compello. John Shepherd, our CEO has always been a huge ally for women, actively supporting and recognising contributions and successes and this is filtered down within our organisation and reflected amongst all our male colleagues.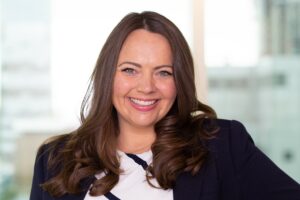 Sharon Jones, our Head of HR says: "We believe we are ahead of the curve, having several strong women in leadership positions. This brings a balanced perspective to our organisation and diversity at senior level, as well as presenting positively in our teams through innovation and the way in which we think and do things. We often positively discuss the impact of having a diverse workplace, particularly with those who join our company, or have worked in male dominated environments. It is refreshing to work in a changing environment in the industry and to have different types of energy in the workplace, in our culture and through innovation, which ultimately is good for business and our clients."
Related posts
17th July 2023
At Shepherd Compello, we pride ourselves on our diverse workplace, having had a very strong female-lead workforce for quite some…
26th June 2023
As a business, we always have been and always will be an advocate for face-to-face trading. Whilst we can appreciate…
24th May 2023
We are pleased to announce the growth of our Transportation team as we welcome Associate Director, Ross Durrant to the…
Join our mailing list!
Keep up to date with all the latest Shepeherd Compello news, blog posts and updates about our products & services – subscribe to our Newsletter.